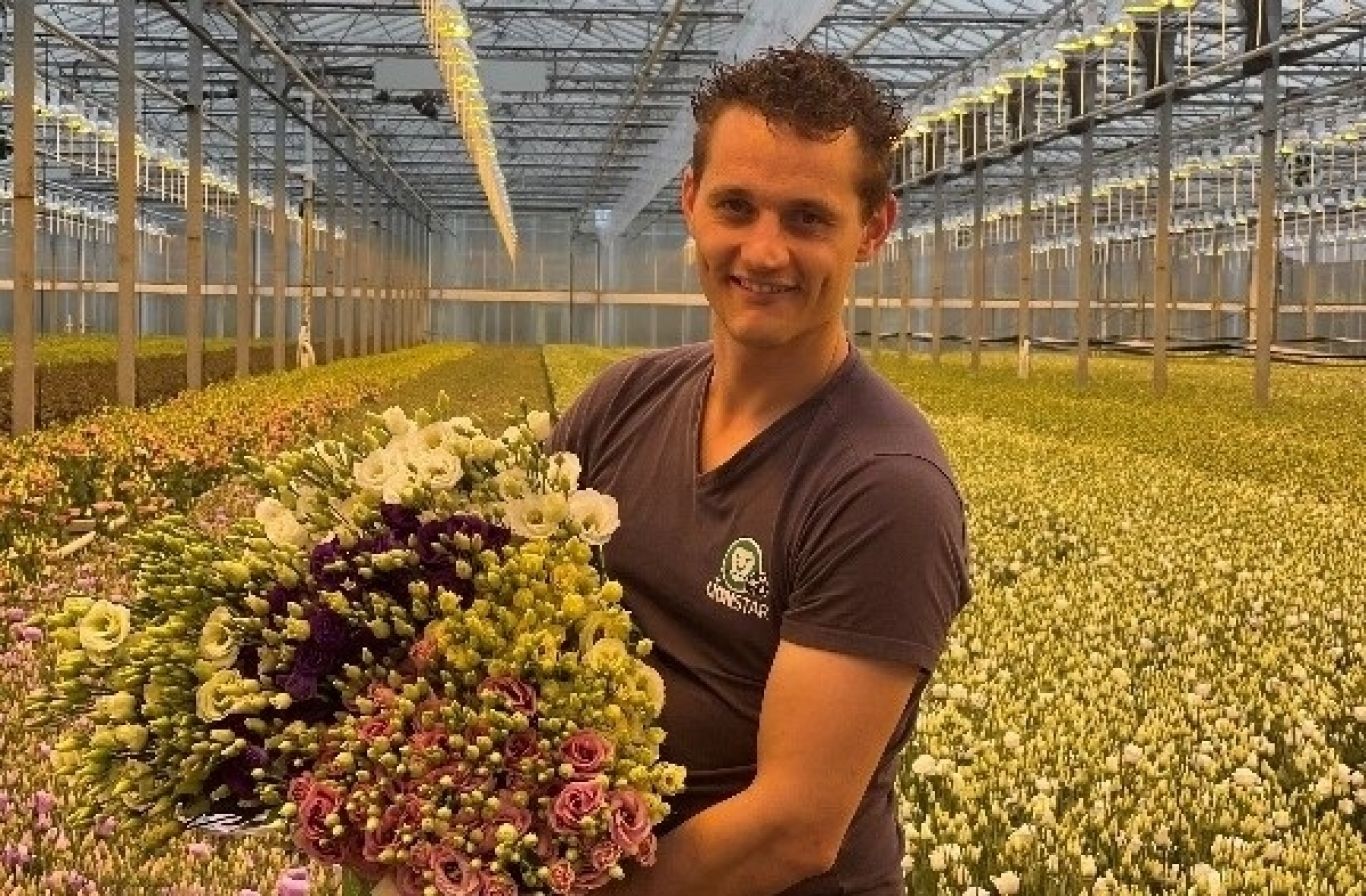 Leonard van Wijk of Lisianthus nursery LionStar participates in the FPC Lisianthus. "Talking about it brings us closer together. And being patient helps too. As a product group, we make a good product and we grow every year. I am proud of that."

In a series of portraits, we portray members of Royal FloraHolland. Entrepreneurs, thinkers and innovators who enter into dialogue with each other and with the management of Royal FloraHolland. About the issues we face as a co-operative. Special people with their own ideas and a common dream: a prosperous future for our co-operative.
Leonard van Wijk (29 years old)
FPC Lisianthus
Lisianthuskwekerij LionStar
Lisianthus
Region Bommelerwaard
Married and a daughter
"Every year, all Lisianthius growers make a yearbook of Lisianthus and we do other joint promotional activities. I think it is very good that we do this together in this way. Making a complete yearbook like this is something you can never do as an individual grower. By doing it together, we offer a good range of products. And that makes us interesting on a national and international scale.

Of course, we are also competitors. But there is a market for every variety and every quality. One breeds mainly for retail, while the other focuses on florists. So cooperation in the area of promotion does not have to bite. Together, we can keep our product group strong, worldwide.

There is quite a lot going on within the cooperative. Because I am a member of an FPC, I am close to the fire. For example the developments around digitalisation. Floriday was supposed to be the new system, but it's certainly not finished yet. Improvements are difficult because Floriday builders lacked the necessary knowledge and experience. But we have to take steps as a floriculture industry, otherwise we will lag too far behind. Then the step will become bigger and harder.
At the start, the daily practice of growers and traders was not sufficiently taken into account. That caused resistance and problems. Now it is also not easy to bring all the wishes and differences together in one programme. But if you take that step as Floraholland, you also have to have the power to finish it.

Our FPC is only a small part of the cooperative. We contribute ideas on behalf of our supporters. That is how we feed the Members' Council. We have no direct influence on policy. But we can look at our product group. What is going to change and how? Of course, we also have discussions among ourselves. About digitisation or national auctions, for example. For me, this is obvious, but it's not for everyone. Talking about it brings us closer together. And patience also helps. As a product group, we make a good product and we grow every year. I am proud of that."